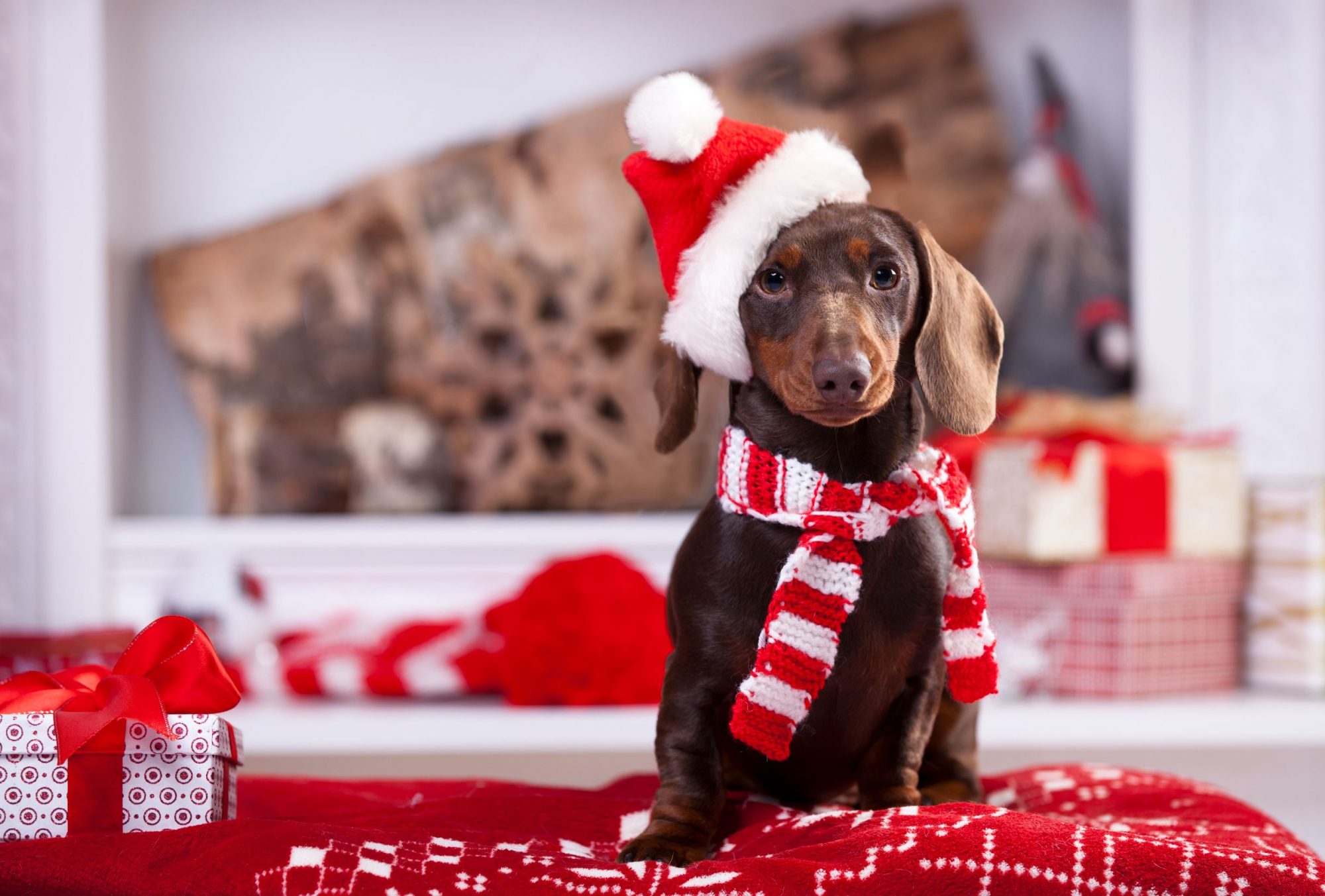 It might seem a bit odd to have rules during the most wonderful time of the year, but without certain guard rails in place, risks to pet health skyrocket. With the influx of strangers around, indulgent foods in abundance, and attractive, dangling objects on display, pet emergencies are bound to happen around the holidays. The good news is that you can guard against them with our tips for ultimate holiday pet safety.
Got My Eye on You
Because the holidays hinge on delicious goodies to eat, let's take a look at the dangerous ingredients not intended for pets. Anything high in sugar or fat should be an automatic no-no, but an approach to holiday pet safety must include serious scrutiny regarding the following foods:
Chocolate
Alcohol
Macadamia nuts
Garlic
Sage
Onion
Caffeine
Xylitol (always check sugar-free baked goods, gums, and candy)
Grapes/raisins
Uncooked bread dough
Some of the symptoms associated with accidental poisoning can be tricky to spot. Keep an eye out for any subtle behavioral changes, vomiting, diarrhea, and lethargy and call us at (951) 461-4100 with any concerns.
In On the Fun!
You don't want your pet to feel left out of all the holiday fun. Treat them to any number of delicious, nutritious holiday pet treats that you make yourself or purchase from local pet stores. During holiday dinners, offer them a plate of steamed sweet potato, soft carrots, and a small amount of bite-sized, lean white meat. Say no to gravy and any bones!
Dogs go crazy for Peanut Butter Biscuits. Cats find these Sardine Stars delightful!
Splendid Decor
It wouldn't be the holidays without strings of twinkling lights, evergreen trees and garlands, candles, and glass baubles. Avoid a true pet emergency by choosing to decorate the home and surroundings with pet-safe items. This could mean artificial greenery, battery-operated candles, and unbreakable ornaments.
Along the same lines, be aware that electric cords that connect to lights and other displays can be attractive to teething pets. Try to stow cords off the floor and behind things that cannot be moved by them. This reduces electric shock and the risk of entanglement.
GI Obstructions
We all know that pets enjoy eating and chewing on things. Tinsel, ribbons, bows, candy wrappers, and much more can cause choking or a foreign body obstruction. Some incidents will resolve without intervention, others require surgical removal. Also, watch your pet closely if they get dressed up for the festivities.
Holiday Pet Safety for the Ages
There's so much to prepare for this holiday, but don't leave your pet out of the loop. If you have any questions or concerns about holiday pet safety, give us a call at (951) 461-4100. From all of us at Sky Canyon Animal Hospital, have a safe and happy holiday season!